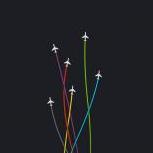 ---
Similar Content

By Darren Faux

Hey peoples. Could someone help me out with the 'tag item type' in Euroscope for the drop down that says whether the aircraft has assigned start, push, taxi etc in the departure list?


By Seojun Oh

I wonder what this grey zone means?



By Taylor Bayley

No shade being thrown at the controller in question, but I'll keep things nameless to generalise things.
I had an ATC booking from 15-1700.  However, a mentoring session was booked that lasted until 16z. I turn up at 16z to take over from the mentoring session - they've evidently left early and someone else has taken over.
Upon messaging said person I am told that it is division policy that, I assume because the trainee left early, I am in effect 15 minutes late (presumably from the moment said trainee left) and I have forfeited my right to the booking -- I'm taking their word that this policy is accurate because carefully analysing the nuance of divpol clauses is not exactly high on my bucket list and I'm very certain this person has a better understanding of it than I do even if I did. 
Again no shade at that controller, they did offer it to me but by that point this conversation had been going back and forth on the logic and enforcement of this policy for about 15mins and there wasn't enough time left for it to be worth me logging on, besides which policy is policy and it's not a controllers fault that the policy is as it is.
 
Therefore, I have to ask - what possible rationale are there for setting the policy like that?  I mean no offence, but people have things to do (even despite the best efforts of SARS-CoV-2) - given I was warned about this mentoring session with plenty of time, I'm going to plan something else for that hour and come back at the end of it making what is a logical assumption in my mind that the session will last as long as it's specified for on the system, not sit at my computer like a drone checking Euroscope every few minutes to make sure the mentoring session hasn't left early.  I may be an aviation nerd who loves controlling, but it's not my degree and it's not my career, so the hours of my day cannot revolve around it.
To me, the logical 'clause' would be that if a mentoring session overlaps a standard session, the start time of the standard session in effect is moved to the end time of the mentoring session, so people can get on with their lives through the duration of the mentoring session.  I cannot fathom a reason why that wouldn't be sensible, but making policy isn't something I've put a great deal of thought into, so I'm open to persuasion.


By Daniel Gill

Evening all,
I, as well as many other people I have seen on the forum, have been wanting to get back into controlling in light of the recent events.
I last controlled about a year-and-a-half ago, and even though I don't think I have lost knowledge of the procedures and R/T, I am still a little nervous to log back in after so long.
From what I have seen on VATSpy ect. maybe GND/DEL can open ATIS without TWR or above? If I'm unsure about this, there could be other things that I don't know about. I don't want to be a nuisance to fellow controllers by not knowing the proper etiquette.
I suppose what I am asking is if there's a resource that I would be able to learn the new rules/procedures, so it can give me some more confidence to give it a go.
Thank you for your time, and apologies if this isn't suitable here.
Kind Regards, Daniel Gill


By Layth Al-Wakil

Pilots
Departing and arriving pilots will all request the latest airfield and weather information on first contact.
Inbound pilots make this request roughly 50nm away from LXGB using their com2 however, if they are unable to do this, they can ask Sevilla Radar to allow them to switch frequencies momentarily to get the weather information from Tower.
Gibraltar does not have many approach types on offer, the three approaches available are:
RNAV to visual Surveillance Radar Approach (SRA) Visual approach As this is a non-precision evening there is likely to be more emphasis on the SRA, this will involve 2 separate controllers with 1 being there simply just to do the final segment of the approach, the controller can only have 1 aircraft on frequency. As you can imagine this is going to most likely lead to holding and delays so bring plenty of fuel extra and make sure you have charts for the aerodrome that will provide you with more information.
For free and up to date charts you can check out the Military AIP
There is an old Pilot brief that I wrote with much of the information that still applies to this date, this can be found here.
ATC
This briefing is split up according to each of the positions and what their responsibility will be:
LXGB_R_APP "Gibraltar Radar"
The main responsibiites are:
 Identification and Control of outbound IFR aircraft f Identification and Control of inbound IFR aircraft until they are transferred to Talkdown or Aerodrome Control. Provision of a service to VFR inbound and outbound aircraft. Provision of a service to overflying traffic. Control of aircraft in emergency. Transfer of aircraft to Talkdown will be accompanied by a radar handover each time with aircraft descending to 1500ft.
LXGB_P_APP "Gibraltar Talkdown"
Talkdowns' primary objective is to provide the SRA and thus is only allowed to have 1 aircraft on frequency at all times.
The SRA crib sheet that I created a little while ago is still in date and can be used fully for the procedure. Also bear in mind that you will be giving SRAs for both civilian and military aircraft on differing tracks.
The only pieces of co-ordination required are obtaining a landing clearance from tower and also informing radar of when the controller is free to receive another aircraft with the phrase "talkdown free"
 
LXGB_TWR "Gibraltar Tower"
In the absence of ground, Tower is to take the responsibilities from airway clearance all the way through to take-off clearance. The IFR clearance for each aircraft is to be sought from Sevilla Radar (LECS_CTR) who will provide the initial routing, cleared level, SSR code and any other instruction.
Once the aircraft has pushed back a release must also be sought from Radar who will ask Sevilla for a release and any after departure instructions which must be relayed on to the pilot even if it is just re-confirming the clearance.
Weather information must also be passed to inbound and outbound pilots via Tower, you effectively read them the METAR and active runway, if the aircraft is military you also pass the colour code.