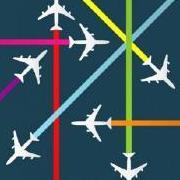 ---
Similar Content

By Chris Pawley

Effective 12 October 2017
 
Until 10 October 2018, a trial exists for the use of steeper (compared to the published procedure) RNAV approaches to all four runways at London/Heathrow. These procedures are known as "RNAV (GNSS) Y Runway xx L/R" and contain a VPA (Verticle Path Angle) of 3.2 degrees.
 
Crews requesting to take part in the trail should state "Request RNAV Yankee" on first contact with Heathrow Director.
 
These trial is designed to establish is a steeper approach angle is manageable for flight crews and ATC while reducing noise for the surrounding communities.
 
Note that:
PAPI lights for all runways remain at 3.0' crews should take care in the final stages of landing and using the PAPI in combination with the RNAV Y procedures. RNAV Y approaches may only be conducted in  CAT I conditions or better Missed approaches are designed around pre-existing approach procedures and thus require the relevant ILS DME to be functional as well as the LON DME.  
These procedures will be documented only here (not in any ATC documentation) as they remain a trial; if and when they are permanently Incorporated, we will revise our documentation.


By Chris Pawley

Effective 17 August 2019
 
For this evening's Dublin/Manchester Citypair there is scope to utilise a split of the Manchester TMA.
 
For the purposes of this event, Manchester TMA West can be split into two positions:- MAN_W_CTR and MAN_WL_CTR.
 
MAN_W_CTR / 128.050 MHz
RTF callsign: Scottish Control
Coordination callsign: PC West
Top-down responsibility for: Isle of Man (EGNS)
 
Covers the remainder of the Manchester TMA West sector (real-world sectors: Isle of Man, Sector 29)


Interfaces with:
Dublin Control for Dublin in and outbounds
PX Antrim for Manchester TMA in/outbounds and Belfast in/outbounds
AC West for traffic between FL195 and FL285 (Newcastle, Humberside inbounds for example)
 
Agreements to MAN_WL_CTR (from MAN_W_CTR)

MAN_WL_CTR / 125.950 MHz

RTF callsign: Scottish Control
Coordination callsign: PC Wallasey
Top-down responsibility for: Manchester (EGCC), Liverpool (EGGP)
 
Covers the Wallasey sector of the Manchester TMA West sector.

Interfaces with:
AC West for Manchester, Liverpool inbounds and presents them to the approach unit(s)
AC West for Leeds, Doncaster inbounds and presents them to PC East
PC West for Manchester, Liverpool inbounds and presents them to the approach unit(s)
Manchester, Liverpool aerodromes for the relevant departures and presents them to AC West, PC West or PC East depending on direction of flight
 
Agreements to MAN_W_CTR (from MAN_WL_CTR):

Note: for Manchester, Liverpool controllers, handoffs that would normally be to PC West are to be made to PC Wallasey as a higher priority, then PC West and then as published.
This sector is correctly represented in sector file versions 2019/09 and later


By Chris Pawley

Effective 20 June 2019
 
In contrast to precision approaches, non-precision approaches are at risk of failing to ensure correct tracking of the vertical path through altimetric calibration error. Should a plane make a non-precision approach with the wrong altimeter setting, they will fly the approach consistently too low or too high. Where (for example) an ILS approach is conducted, such an error is detrimental to ensuring separation in the intermediate approach but is corrected for in the final approach by ground based navigational equipment.
 
In order to correct for any errors through altimetric calibration, approach controllers are instructed to issue the relevant QNH with the approach clearance for aircraft conducting a non-precision approach (including RNAV approaches)
 
 


By Chris Pawley

Effective 28 February 2019
 
A new position Southend Director (EGMC_APP, 132.450) is available for us. This position serves as a split of Southend Radar (EGMC_R_APP, 130.775) during times of high workload and focusses on aircraft inbound to Southend. This allows the Radar controller to conduct the other duties of the combined approach unit. This position is particularly useful when SRAs are in use.
 
The 2019/03 version of the UK Sectorfile contains these changes, and the relevant local documentation will be update in a coming update.


By Chris Pawley

Effective 26 April 2019
 
Birmingham ATIS Frequency is update from 126.270  to 136.025
 
The UK Sector File version 2019/05 contains these changes, relevant documentation will be updated in a future update.