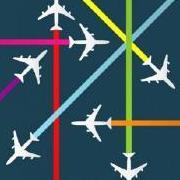 ---
Similar Content

By Chris Pawley

Effective 14 October 2019
 
From the effective date, VATSIM will collectively transition to new voice software - Audio for VATSIM. This requires some changes of operation of our software and some new functionality. The enclosed document details how to do so.
20190914 - Audio for VATSIM.pdf
 
 
I anticipate this this will be revised during the days that follow as we iron out new challenges and review our procedures once we have started using them.


By Chris Pawley

Effective 10 October 2019
 
The enroute longitudinal seperation minima are revised.
 
Traffic on reciprocal and traffic on crossing tracks are now treated seperately. Traffic on crossing tracks have seperation minima of 15 nm (at the closest point) at the same level. Traffic on reciprocal tracks require 40 nm seperation minima until aircraft have passed one another and are 5 nm apart.
 
A summary of the seperation minima to be applied is available here Horizontal Separation Requirements – UK.ENR.pdf
 
Thanks to @Sebastian Rekdal for preparing these procedures. The EGTT vMATS Part 2 will be updated to reflect these changes in the future.


By Chris Pawley

Effective 10 October 2019
 
In order to deconflict some similar sounding frequencies and to make better use of frequencies available to us, the following frequency assignments are altered:-
AC Bandbox - LON_CTR - 123.900 -> 127.820
TC Bandbox - LTC_CTR - 124.920 -> 135.800
AC Clacton - LON_E_CTR 121.220 -> 118.470
TC East - LTC_E_CTR - 129.600 -> 121.220
 
Our neighbours are informed of these changes so they can prepare their files locally to account for these alterations. Our letters of agreement will be updated as required. Other documentation (there is alot!) will be updated in future AIRAC cycles. The UK Sector File and Controller Pack from 2019/11 will contain these changes.


By Chris Pawley

Effective 12 October 2017
 
Until 10 October 2018, a trial exists for the use of steeper (compared to the published procedure) RNAV approaches to all four runways at London/Heathrow. These procedures are known as "RNAV (GNSS) Y Runway xx L/R" and contain a VPA (Verticle Path Angle) of 3.2 degrees.
 
Crews requesting to take part in the trail should state "Request RNAV Yankee" on first contact with Heathrow Director.
 
These trial is designed to establish is a steeper approach angle is manageable for flight crews and ATC while reducing noise for the surrounding communities.
 
Note that:
PAPI lights for all runways remain at 3.0' crews should take care in the final stages of landing and using the PAPI in combination with the RNAV Y procedures. RNAV Y approaches may only be conducted in  CAT I conditions or better Missed approaches are designed around pre-existing approach procedures and thus require the relevant ILS DME to be functional as well as the LON DME.  
These procedures will be documented only here (not in any ATC documentation) as they remain a trial; if and when they are permanently Incorporated, we will revise our documentation.


By Chris Pawley

Effective 12 September 2019
 
A number of conventional navigation SIDs at Gatwick are rerouted and redesignated:-
 
LAM5M/5V routing changed from NEXOX to ACORN, turn to LAM now occurs at 10.5 DME from DET (rather than 10 DME). Redesignated LAM6M/6V
DVR9M/9V routing changed from NEXOX to ACORN redesignated DVR1M/1V
CLN9M/9V routing changed from NEXOX to ACORN, redesignated CLN1M/1V
 
The UK Sector File is updated to reflect these changes, other documentation will be updated in the future.