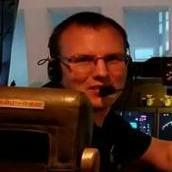 ---
Similar Content

By Tristan Garratt

Fixed it myself


By Nick Szewciw

Hi Guys, 
I've recently started flying on the Vatsim network and I'm really enjoying it. I have very limited knowledge of how to actually fly the aircraft and what the different ways to approach/land etc are, so I thought it a good Idea to check out the Pilot ratings. I have completed the online P1 course, but I am unsure as to how to progress onto the P2. In the CTS it says I have completed the P1 Theory but my rating is too low to start the P2? I am in the Pilots group with Mathew Wilson as the group manager but i cant easily see what I am meant to do next. I have downloaded the P2 training documents folder and I've just been sat here trying to work it out with no luck.
I also have an interest in learning to become an ATC, and the CTS says I can take the S1 theory exam, is that what I need to do to begin my training for ATC? If I click "Choose home" it gives me the option to join "TG New Controller" and transfer to "observer training" is that the next step for ATC before or after the S1 Theory?
 
Sorry for all the questions, I did have a browse for answers to previously asked questions but didn't quite get the answers I needed.
 
Cheers
NIck
 
 


By Isaac Dunn

Does anybody know when the line of P1 candidates waiting to be assessed, will be? There seems to be a shortage of examiners...


By Chris Boyle

Firstly a huge thank you to everyone involved in creating the new Flight Training Exercises system. I know it's been a long time coming, it looks very well put together and I'm sure it'll be both fun and educational for a lot of pilots.
Sadly with my current setup of X-Plane on Linux I can't join them, as the smartCARS software "does not support Linux at this time" (statement from developer).
I just wondered if anyone has had any success working around this, while keeping the sim itself on Linux and outside of WINE? I know smartCARS supports X-Plane on Windows, via XPUIPC (which itself is Windows-only) - so perhaps if XPUIPC or similar could be persuaded to read X-Plane's network-exported data rather than being a plugin? Long shot, I know.
Otherwise, I guess I can still follow along the same routes, just without the tracking / score-keeping. And of course EuroScope runs perfectly under WINE so I can always control. :-)


By Anthony Michael

Hello!
I was wondering where could I sign up for pilot training? This seems like a really cool feature that I would be willing to use. I know how to fly the plane, its just that I struggle with atc communication sometimes. If I could somehow sign up for the pilot training that would be awesome!