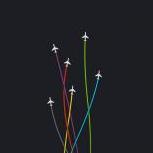 ---
Similar Content

By George Peppard

CPDLC stands for Controller-Pilot Data Link Communications and is the method by which controllers communicate with pilots via a datalink system. The most common method on VATSIM is via Hoppie's ACARS.
Various aircraft are now beginning to support Hoppie's system and therefore this guide will show you the simplest way to get up and running and able to issue PDC (pre-departure clearance) to aircraft via this system.
Prerequisites
In order to use this system, you require a copy of EuroScope (which I hope you all have) and vSMR. vSMR can be downloaded here. Simply install this plugin into EuroScope like any other - you don't actually need to setup the vSMR ground view (although you may if you wish *ahem* Heathrow), you just need a copy of the plugin installed.
You also require a Hoppie's logon code, which may be obtained here.
Setup of vSMR
Once you have vSMR installed, type ".smr" in the message box at the bottom of EuroScope. You will then be greeted with a dialog that looks something like this.

Enter your Hoppie's logon code (from the prerequisites section which I trust everyone read fully) and set the logon callsign as the four letter ICAO code of your aerodrome (for example EGKK). If this is already taken, then there is a high chance that someone is already offering PDC at your airport. You can still set ACARS up, but it probably won't be used by pilots. I have it on relatively good authority that "non-primary" stations would use Z + last 2 letters of their ICAO + first letter of position. For example, EGKK_TWR may use ZKKT if EGKK was already taken.
You may also want to tick the "Play sound on clearance request" checkbox, but this is entirely optional.

Once this is done, click "OK".
Departure list setup
You now need to configure the departure list on EuroScope to allow you to see requests and process them.
Click the "S" in the top left of the departure list to bring up the setup dialog. You may now add an item in a position of your choosing. I'll add it after the clearance recieved flag.

Configure the item as above, and press "OK".

You should now have a new item in your departure list.
Connecting and issuing clearance
You may now connect to the ACARS system. Type ".smr connect" in the EuroScope message bar. You will recieve a confirmation if this is successful.
Aircraft may now request clearance. In this example, BAW126 will request PDC via datalink. You will hear a "ding" if enabled and the datalink indicator will flash with an "R" symbol. Clearance is on request.
To process the clearance, click the indicator and click "confirm". You must now check all data is correct and if applicable enter the next frequency.

Once you are satisfied, press "Send". The datalink indicator will change to a yellow "V", and the aircraft must now accept the clearance. If the aircraft is unable to fly the clearance you have issued, they should revert to voice procedures.
When the aircraft has accepted the clearance, the "V" will change to green. You may now tick the "clearance received" flag.

All done!
You're all setup and have handled your first PDC clearance request. Other options are available when issuing clearances, for example "standby" or "voice". These are fairly self explanatory and have not been covered in this guide.
You may also wish to enter something like "PDC logon EGKK" in your controller ATIS so pilots can find your callsign easier. This is optional but highly recommended.
If you have any questions please post below and I (or perhaps another helpful member) will do their best to help you. Together, we can put an end to "PDC via vPilot" 😉
On behalf of all the pilots wishing to request PDC, thanks!


By Harley Mulholland

Apologies if this has already been asked but couldn't see anything on it
Are the euroscope servers currently down or is there a new software we use for controlling now? None of the links to euroscope appear to be working giving error 404
Thanks,
Harley 


By William Grimsley

Hi everyone,
Hope you're all well.
I was controlling earlier with no issues. But, I've just tried again, and now everytime I open EuroScope, it crashes to desktop. Event Viewer has identified it as the ntdll.dll file that is causing the issue.
I've tried the usual restarting the PC and reinstalling ES, but that didn't work. Has anyone else come across this crash, and if so, have they managed to fixed it?
Thanks,
Will


By James van Hankins

Hi everyone
I'm sure this has probably been answered before so apologies if there is some repetition of the topic. I've set up my ES to automatically download the UK sector file updates but I don't think it automatically installs them...
Am I supposed to do something when the file has downloaded? Would someone mind replying with a step by step style instruction so I can get it updated? :) In particular, the FRANE departures from Gatwick are missing for me so wanted to update to the correct version.
Thank you in advance!
Jamie


By Mike Jasinski

So i have no idea whats happened with my Euroscope. I was using it this evening, everything seemed to work fine.
I closed it after use - no issues. Meanwhile  i ran an update on iTunes and Apple Updater. (not sure if this is relevant, just adding it to show that i didnt do anything else in between)
I came back to Euroscope after an hour.
First odd issue, I had a shortcut on my start menu to euroscope. This didnt open it in the way it normaly does, instead i started to try and install Euroscope, however it seems to fail giving me the following error:

 
So I cancel and go direct to where ES is installed - C:\Program Files (x86)\EuroScope - ES opens fine, presenting me with my usual option of opening a profile file i.e MANCHESTER COMBINED .prf or GENERIC COMBINED .prf
When i select (for eg.) GENERIC, my ES open up in the 'vanilla' seup as below:

I get a message with  the following:


etc etc
I have no idea whats happened. I'm trying to avoid a complete re-install of ES and all my plugins as i really dont want to have to lose all my settings.
Anyone have any idea whats happened here? 
Thanks for any help!