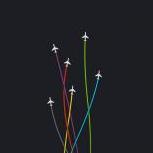 ---
Similar Content

By William Grimsley

Hi everyone,
Hope you're all well.
I was controlling earlier with no issues. But, I've just tried again, and now everytime I open EuroScope, it crashes to desktop. Event Viewer has identified it as the ntdll.dll file that is causing the issue.
I've tried the usual restarting the PC and reinstalling ES, but that didn't work. Has anyone else come across this crash, and if so, have they managed to fixed it?
Thanks,
Will


By James van Hankins

Hi everyone
I'm sure this has probably been answered before so apologies if there is some repetition of the topic. I've set up my ES to automatically download the UK sector file updates but I don't think it automatically installs them...
Am I supposed to do something when the file has downloaded? Would someone mind replying with a step by step style instruction so I can get it updated? :) In particular, the FRANE departures from Gatwick are missing for me so wanted to update to the correct version.
Thank you in advance!
Jamie


By Mike Jasinski

So i have no idea whats happened with my Euroscope. I was using it this evening, everything seemed to work fine.
I closed it after use - no issues. Meanwhile  i ran an update on iTunes and Apple Updater. (not sure if this is relevant, just adding it to show that i didnt do anything else in between)
I came back to Euroscope after an hour.
First odd issue, I had a shortcut on my start menu to euroscope. This didnt open it in the way it normaly does, instead i started to try and install Euroscope, however it seems to fail giving me the following error:

 
So I cancel and go direct to where ES is installed - C:\Program Files (x86)\EuroScope - ES opens fine, presenting me with my usual option of opening a profile file i.e MANCHESTER COMBINED .prf or GENERIC COMBINED .prf
When i select (for eg.) GENERIC, my ES open up in the 'vanilla' seup as below:

I get a message with  the following:


etc etc
I have no idea whats happened. I'm trying to avoid a complete re-install of ES and all my plugins as i really dont want to have to lose all my settings.
Anyone have any idea whats happened here? 
Thanks for any help!
 


By Andrew Gransden

UKCP is allocating the wrong squawks to VFR traffic departures leaving the Control Zone at EGGD. It is using the Radar Use ones (5050-5077 except 5070) and not 5070 used for all zone departures.VFR circuits all use 7010 [EGGD vMAT2]


By Luke Brown

Is there any any logic to the display of the aircraft type and wake category with the plugin?
Having essentially ported from VCA, I note that any string within the filed a/c type is also displayed, and somewhat limits the UK wake category.
i.e. if someone has filed A319/L or H/B77L/X the plugin will display A319/L/M or H/B77L/X/H respectively. (doesn't fit nicely in my 7 character box)
The only method to get a correct display is to remove the other bits the person has filed, to just leave the correct ICAO code.
EuroScope itself seems to be able to ignore the FAA equipment code that people file, but this part of the plugin doesn't.
Maybe this will all be fixed when VATSIM finally moves to the ICAO flight plan format?
Cheers,
Luke
P.s. Good Work!